Smithsonian-France in Focus Forum 2021: Earth Optimism: Our Shared, Sustainable Future
Aug 27, 2021 | By Annie Hamaty, Sara de la Torre Berón
How can museum professionals, educators, artists and civil society leaders work together to support young audiences in their reflection on major societal issues? How can we make museums a more inclusive place where youth can debate and propose solutions to urgent social and climate questions?

These are the critical questions addressed during the first half of a yearlong program developed by the Smithsonian Institution (SI) in collaboration with the US Embassy in Paris. The program, called Earth Optimism: Our Shared, Sustainable Future, presented a series of five Franco-American conversations on critical and current issues facing museums, taking place each month from February-June 2021. The sessions were targeted towards a recurring audience of museum professionals, educators, and civil society leaders who engage with youth on questions of social justice and the future of the planet.

Smithsonian Secretary Lonnie Bunch kicked off the series on February 4, joining Juliette Guépratte, (Director of Strategy, Louvre-Lens Museum) and Malcom Ferdinand (Researcher in political environmental studies, Fondation pour l'écologie politique Book Prize 2019) in a discussion moderated by Journalist Maxime Tellier from France Culture. Panelists discussed how cultural institutions can use their expertise, programs, and collections to be of value and help create a more equitable and sustainable future. They also shared ways to engage and inspire younger generations and provide tools so that youth can make an impact in their communities, countries, and the planet.
•    Session 1 February 4: Telling Stories That Matter For Our Shared Future Session 1 recording
•    Session 2 March 24: The Fierce Urgency of Now: A Conversation on Race, Cultural Practice, and Our Shared Future Session 2 recording
•    Session 3 April 7: Earth Optimism: Beyond Gloom and Doom on Climate and Conservation Session 3 recording
•    Session 4 May 12: Do Something! How museums and educators can engage the public to take environmental action Session 4 recording (Recording in French)
•    Session 5 June 2: Ocean Action: What's the Mission? Session 5 recording
 
Further sessions focused on the intersections between race and cultural practices, new ways to frame climate success, and how museums can contribute to solving global environmental challenges. The fifth session, highlighted in more detail below, focused on ocean action and had a new target audience of French high school students. Aligning with the Smithsonian's commitment to increasing accessibility of public programs, sessions 3-5 offered live captioning services in French.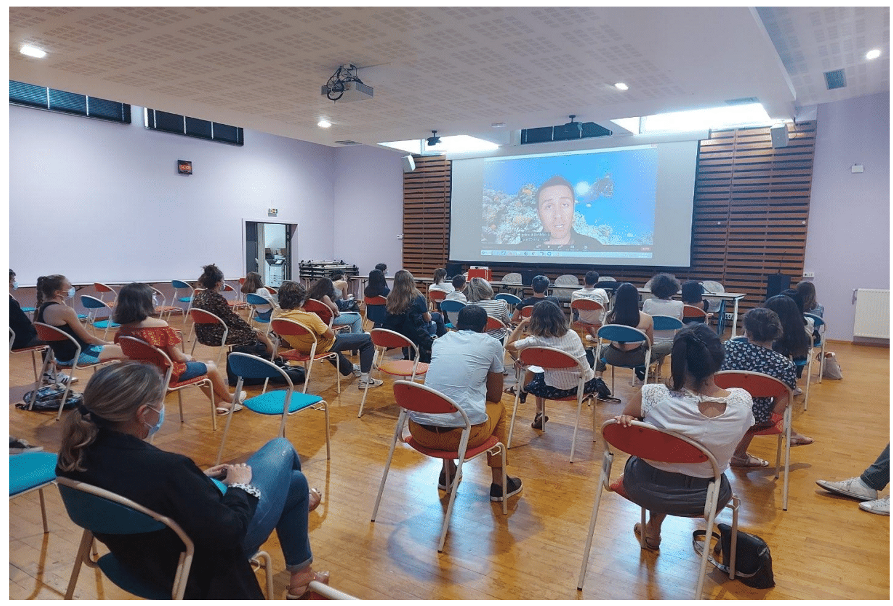 What is our responsibility in protecting the world's oceans and marine wildlife?

The speakers and participants of "Ocean Action: What's the Mission?" argue that the ocean must be protected and prioritized. As the largest component of the Earth's systems, the ocean plays a major role in stabilizing the climate and providing for human wellbeing. This year begins the UN's Decade of Ocean Science for Sustainable Development, an effort aimed at improving ocean health and advancing ocean science that will improve our sustainable development of the ocean. 
On June 2, the fifth virtual session of the spring series, "Ocean Action: What's the Mission?" took place. The session was moderated by Melanie McField, Coral Reef Expert at the Smithsonian National Museum of Natural History and Director of the Healthy Reefs for Healthy People Initiative (HRI), and featured Philippe Cousteau Jr., Franco-American oceanographer, environmental activist and cofounder of EarthEcho International, Melina Soto, the Mexico Coordinator for Healthy Reefs for Healthy People Initiative (HRI), and Captain Greg Wisener the Sailing School Vessel Captain of SEA Semester, as speakers. 
The session audience were high school students involved in France's "Eco Delegate" program, a cohort of students tasked with decision-making for their school. Over 200 students tuned in, some individually and some in classrooms, and nine students asked questions about coral reefs, what young people can do to address the challenges that climate change presents, and about the panelists' careers in environmental conservation and activism. Cousteau inspired students to pursue careers in conservation and get involved in Earth Echo's OceanEcho 30 x 30 challenge, a youth-led action initiative to protect 30% of the world's ocean by 2030. In line with Smithsonian's Earth Optimism goals, the speakers encouraged students to galvanize and harness hope instead of focusing on doom and gloom, while affirming that young people have the power to be real changemakers. Cousteau inspired students to take multiple actions to help the environment because young people have "extraordinary influence and power" on their communities and world.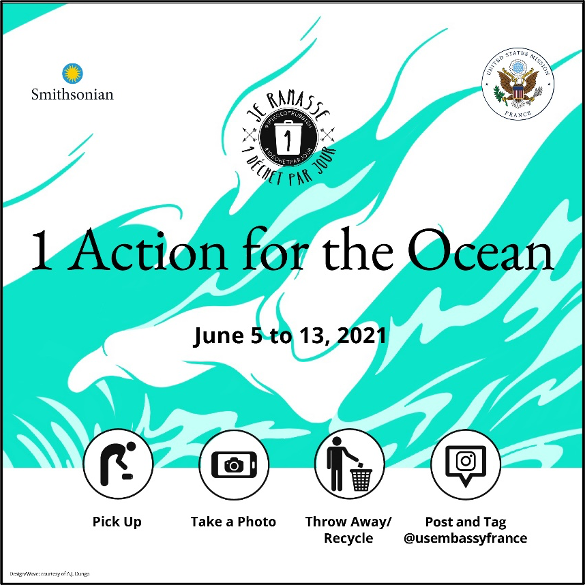 Further, aligned with the session, the U.S. Embassy in France and the French organization 1 Déchet par Jour challenged youth in France and in the U.S. to participate in small beach and riverside clean-ups from June 5-13 in honor of World Oceans Day. This social media campaign, "One Action for the Ocean" encouraged individuals to pick up some litter on a beach, by a riverside, or simply near home or school; and to then post a photo of their ecological action on Instagram, tag @usembassyfrance, and finally, throw the trash away in the appropriate bin. Smithsonian partner Parley for the Ocean and the Smithsonian Associate's EcoTeen leaders from the Frost Science Museum in Florida created one-minute videos that were shared as part of the social media campaign. Over 40 participants shared their actions for the ocean on social media.
The spring series succeeded in bringing together key audiences, including French and American scientists and researchers, cultural leaders and influencers, educators and civil society, to engage in a cross-cultural dialogue and jointly explore issues of race, community, and conservation science. Many of the innovative examples highlighted during these sessions demonstrated the importance of US-French research cooperation and led to increased interest in new collaborations. Over 350 attendees total joined the five sessions, with a significant group of recurring individuals. Through their participation, audiences and presenters alike came away with new ideas and approaches to their work, and inspired by their collective potential impact in both a local and global context.
The second half of this yearlong program will consist of a virtual classroom-based exchange among French and US classrooms for the fall 2021 academic term. Students will explore interconnected focus areas during monthly sessions, and will have meaningful opportunities to exchange with each other in between sessions. Students will be able to connect with peers across international borders and learn from and with each other, and inspire each other to make differences in their local communities.
A second blog post will be published once the fall series concludes. Link forthcoming.